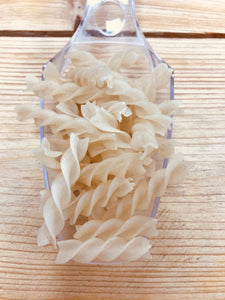 Nnova  Rice Fusilli, holds together when boiled, has a similar texture to wheat based pasta, and tastes excellent!
Can be used for salads, oven baked dishes, something for the whole family to taste.
Ingredients: (Allergens Highlighted in Red)
Rice flour (96%), tapioca starch (as stabiliser), rice starch (as stabiliser)
DIETARY INFORMATION: Suitable for coeliacs, vegans and vegetarians.

 COOKING INSTRUCTIONS 
Boil water in a large pot. To make sure pasta doesn't stick together, use at least 4 pints of water for every 8 ounces of pasta. Make sure that the water is at a fast, fierce, rolling boil before you add the pasta.
 Salt the water with at least a tablespoon of salt. The salty water adds flavour to the pasta.
Pour pasta into boiling water. Boil undercover for 8-9 minutes or until tender, stirring occasionally.
Drain and rinse with warm water.

This will be packaged in a paper bag, or reusable container to the nearest 100g.