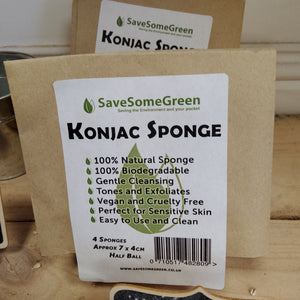 If you have never heard of a Konjac sponge, don't worry. They are very new to us.
Made from a natural root (a kind of Japanese turnip). These sponges are excellent for your skin.
Soft and gentle on your skin, they are great for clearing the grime from your day.
And when you have finished with them (Konjac sponges last approx 3 months or so, depending on use), they can go straight into the compost bin. Or regular bin. They will rot down to nothing.
Excellent for removing make up and preparing the skin beforehand
Gently exfoliation brings back your natural glow
Naturally PH Balancing
Helps to Keep skin refreshed tender and smooth
Pack of 4 coloured sponges
approx size 7 x 7 x 4 cm