Good for you, good for the planet
How much of what you buy at the supermarket goes to waste? Discover the new, eco-friendly way of shopping for food and household items that means you only buy exactly what you need – saving on waste and money.
You'll find a huge variety of amazing products and it's all available to order online with nationwide delivery, or visit us in store at Selby's only eco refill shop.
All our products are sustainably sourced and have the smallest carbon footprint we can find, so you know you're supporting workers to receive a fair wage and protecting our planet. The brands we stock include Miniml, Lady Days, Starfish Living, Dolores & Rose, Bee Clean Soaps, and much more.
With all our food, cleaning products and beauty ranges available as refill items, you're reducing plastic waste too – why not make the change today?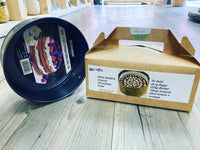 Christmas Cakes
Delia's Classic Christmas Cake mix.
These have flown out every year so far. They take the hassle out of making a Christmas cake as all the ingredients are weighed out for you. The fruit is even pre-soaked, so all you have to do is add the wet ingredients mix and place in the oven.
Shop now
Open online and in-store 5 days a week

Local and national delivery available
Meet Emma in-store at Gowthorpe, Selby

Escape the modern-day rush and stop for a chat
A family business

Bringing back the friendly, local feel to shopping
Let's make a difference

The UK uses 5 million tonnes of plastic every year
Open online and in-store 5 days a week
Local and national delivery available
Meet Emma in-store at Gowthorpe, Selby
Escape the modern-day rush and stop for a chat
A family business
Bringing back the friendly, local feel to shopping
Let's make a difference
The UK uses 5 million tonnes of plastic every year
Testimonials
We'll never buy our herbs and spices from anywhere else now. The value for money is amazing and the selection of different products available is fantastic.

Antony Ripley
This shop is amazing as I can just buy the amounts needed instead of buying a whole jar. I was very surprised how cheap it was for the excellent quality ingredients.

Sally Waterhouse Beaumont
Brilliant to make a change to shopping habits for the better! Love using my own jars to stock up with, feels like I'm doing my part for the environment!

Kirsty Hoyle