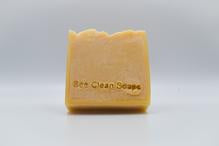 The antioxidant properties of beer help to smooth and repair damaged skin and reduce the appearance of acne as well as acting as an exfoliant to deeply cleanse and unclog pores. Enriched with shea butter, this soap conditions dull, dry skin to aid the restoration of natural moisture levels. Shea butter is also known to boost the body's natural collagen production, which will leave the skin looking and feeling plump and young.
This soap is scented fruitily with a blend of lime, mandarin, and basil essential oils.
Why compromise style for substance when you can have the whole package?
All of our Natural Honey Soaps are made with real Yorkshire honey to encourage a bubbly lather whilst also locking moisture into the skin to leave your body feeling healthy and refreshed.
Ingredients: coconut oil, shea butter, rapeseed oil, beer, water, glycerol, honey, mandarin essential oil, lime essential oil and basil essential oil