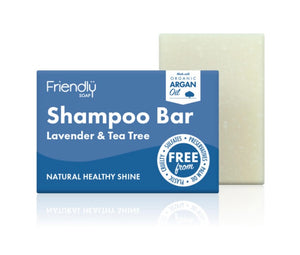 The castor oil in this shampoo bar produces a gorgeous creamy lather that gently cares for your hair. The organic argan oil has fantastic conditioning properties. Lavender and tea tree essential oils help it refresh as well as it cleanses, all packed into a conveniently small bar that lasts longer than you'd think.
95g  pH8-9
Description
Castor oil has been added to coconut and olive oil, giving our lavender and tea tree shampoo bar a triple richness and a wonderful ability to moisturise. Organic argan oil is a wonderful natural conditioner. Meanwhile, the bar's essential oils of lavender and tea tree do a great job of bringing a wonderful scent into the mix.
Each lavender tea tree shampoo bar is handmade with Argan Oil, Castor Oil, Coconut Oil, Olive Oil, Lavender and Tea Tree essential oils.
You won't find even the smallest smidgen of palm oil, preservatives or sulfates in any of our soaps; all we add is a feel-good factor.  Our plastic-free boxes are recycled and recyclable, and we're also registered with The Vegan Society and Cruelty-Free International.  We've even earned a 'Best' rating withEthical Consumer, so you can enjoy a spotlessly clean conscience.
Sodium cocoate, Sodium olivate, Aqua, Sodium castorate, Argania spinosa (argan) kernel oil, Melaleuca alternifolia (tea tree) leaf oil contains limonene, Lavandula angustifolia (lavender) oil contains linalool