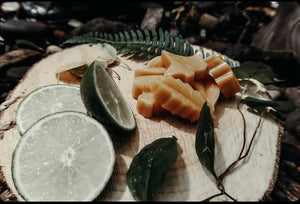 INTO THE WOODS
"I sang of leaves, of leaves of gold, and leaves of gold there grew:
Of wind I sang, a wind there came and in the branches blew."

- J.R.R Tolkien, Lord Of The Rings
When life becomes a little too hectic it's time to escape into nature; Walking amongst the trees, in the dappled sunlight can bring calm and clarity to the busiest of minds.
Into The Woods is an uplifting and earthy blend of zesty lime to reawaken the senses, fir needle to lift your spirits and cypress and cedarwood to help reduce anxiety and fatigue. It's a stroll amongst the leaves without leaving your home.
Please Note: These wax melts come in sets of 6.