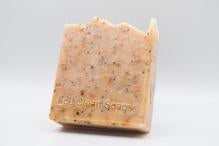 Lemon Soap bar. This natural honey soap is fresh and zesty with delightful scents of lemon, lemongrass and rosemary with poppy seeds for gentle exfoliation. 
The fresh tones of lemon and lemongrass are mixed with beautiful notes of rosemary in this exfoliating soap bar great for giving your skin a gentle buff leaving you feeling renewed and ready to face the day.
A natural soap bar is made from organic unrefined shea butter, organic unrefined coconut oil and Yorkshire rapeseed oil and enriched with Yorkshire honey. Dried lemon peel lends is used to help colour the soap its sunny yellow hue and adds to the poppy seed's gentle exfoliating properties.
Honey not only adds bubbles to a soap bar it is also a humectant, helping lock moisture into the skin.
Shea Butter and rapeseed oil lend mild, gentle, conditioning properties to the soap bar whilst the coconut butter helps form a harder, cleansing bar. Shea Butter is also highly moisturising whilst letting the skin breathe. 
Suitable for Vegetarians
120g minimum weight.
Ingredients:
Sodium Cocoate (Coconut Oil), Sodium Rapeseedate (Rapeseed Oil), Sodium Sheabutterate (Shea Butter), Glycerin (Byproduct), Aqua (Water), Mel (Honey), Citrus Limon Peel (Dried Lemon Peel), Papaver Somniferum Seed (Poppy Seeds), Citrus Limon Peel Oil (Lemon Essential Oil), Cymbopogon Flexusosus Oil (Lemongrass Essential Oil), Rosmarinus Officinalis Leaf Oil (Rosemary Essential Oil). 
Allergens: Citral, Geranoil, Limonene