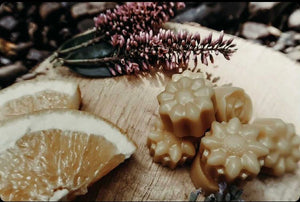 MAMA'S GARDEN
"If you look the right way, you can see that the whole world is a garden."

- Francis Hodgson Burnett, The Secret Garden
The sparrows sitting on the white picket fence, the smell of the roses, growing wildly over the bay window and the sound of the bees buzzing around the lavender, that sways gently in the warm breeze.
I created Mama's Garden with those long, lazy summer days in mind; Out in the fresh air, enjoying the sunshine. With the heady floral aroma of lavender and ylang ylang, citrusy notes of sweet orange and petitgrain and finally the warming, spicy scent of rosewood. This is a beautiful potion of peace for those "come rain or shine" days.
Please Note: These wax melts come in sets of 6.