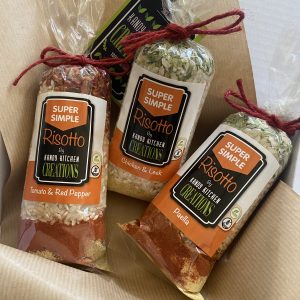 The Super Simple Range by Kandy Kitchen Creations have got even Simpler!
They have now made some mini versions of their large ones. To feed 2 rather than 4!
They come in packs of three initially but are a great addition to their amazing already popular range.
The Risotto pack which includes: –
Chicken and Leek Risotto (GF/V),
Tomato and Red Pepper Risotto (GF/V)
Paella (GF/V)
Pre-packaged in a gift box so ideal for many other occasions too.