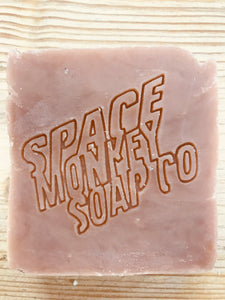 'Tickled' Pink hits you like a flowery face slap! It contains French Pink Clay which is a natural exfoliant and contributes to skin cell regeneration and looks gorgeous. Loaded with Ylang Ylang and Lavender, which are known for mood boosting qualities and to help alleviate anxiety. So, go ahead and tickle yourself or your loved one (if you're lucky!) pink!
INGREDIENTS:
Sodium Cocoate (Coconut Oil), Aqua, Sodium Rapeseedate (Rapeseed Seed Oil), Sodium Olivate (Olive Fruit Oil), Glycerin* Sodium Shea (Shea) Butterate, Rosea Pulveris Lutum (Pink Clay Powder), Cananga Odorata (Ylang Ylang), Lavandula Angustifolia (Lavender), Citrus Limonum (Lemon) **Benzyl Salicylate, **Benzyl Benzoate, **Citral, **Farnesol, **Limonene, **Linalool
*Naturally occurring in the soap making process
**Naturally occurring in Essential Oils
ADDITIONAL INFORMATION:
Due to the handmade nature of our soap, weights, dimensions, colour & texture may vary.
Minimum soap weight 120gms, normally more.